Fast Action Doors and High-Speed Doors
Especially suitable for high traffic areas, the door curtain will open extremely quickly allowing a pedestrian or vehicular access.  Many options offer self-correcting curtains & complete seals which can be a requirement where temperature controlled and vermin proof environments are a necessity.
High-speed doors are becoming increasingly popular due to the flexibility they provide in environments where continual works traffic is in flow, or where retaining temperature control is a priority.
Particular useful in textile, chemical food processing & pharmaceutical plants, they provide a host of benefits, which are outlined below.
The benefits of Fast Action Doors and High-Speed Doors
Speed: opening speeds of up to 2.5 metres per second.
Self-Repairing: In the event of impact the cogged sides allow the curtain to come out of the guides, then automatically reset after one cycle with no intervention. Thus minimising any potential damage to the curtain.
Safety: complete with two safety systems as standard. Firstly, safety cells consisting of one receiver & one transmitter situated on the door column. Additional safety cell which is one photocell located in the canopy. This monitors the curtain as it is unwinding from the barrel. Note: A wireless resistive bottom safety edge is present.
Sealing: Due to the cog and zipper system, the curtain provides extremely reduced air & water permeability.
Conservation: high-speed doors optimise logistic, provide insulation by eliminating drafts of air & heat loss & reduce noise pollution & dust.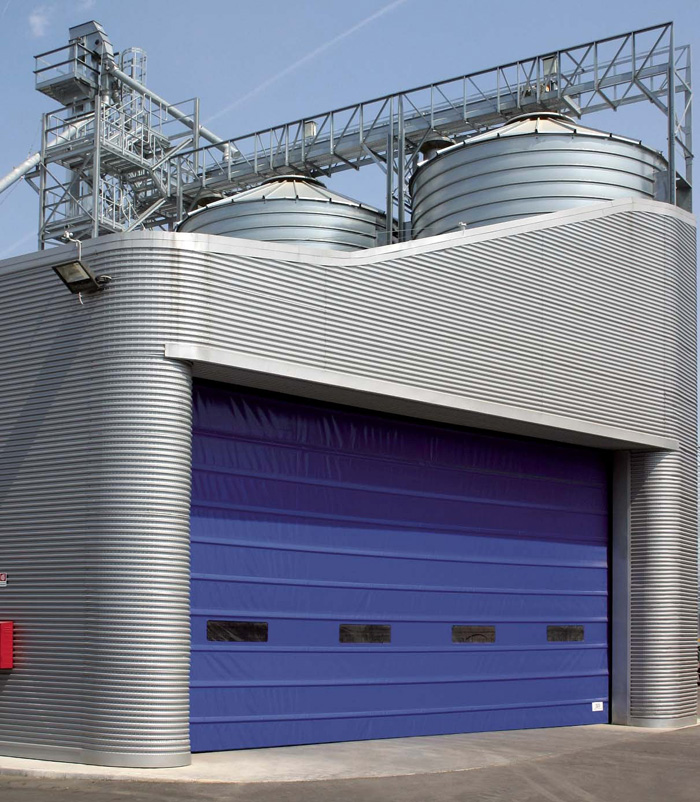 High-speed doors are suitable for intensive & continuous use applications. The frame/canopy is made from 2mm galvanised steel, making the structure very strong, sturdy & self-supporting with no welded parts. They have been tested in working conditions to over 2.5million cycles with excellent results. They are highly resistant with great operational performances under wind load & differences in pressure up to Class (EN12424).
With a simple, basic, robust & functional design, they are incredibly compact ideal for applications with reduced side room & headroom.
Available with one row of rectangular vision panels as standard, additional windows are available to order, as are silk screen printing, digital prints & logos on the curtain as an option.